https://www.ephotozine.com/article/panasonic-leica-dg-vario-summilux-10-25mm-f-1-7-asph-hands-on-33371
"Panasonic are showing a working version of the new Leica 10-25mm f/1.7 Micro Four Thirds lens, at The Photography Show 2019, at the Birmingham NEC. We had a hands-on look at the new lens, which was first shown, in prototype form, at Photokina 2018. The lens gives the equivalent of 20mm to 50mm, and is lighter than it looks, considering the (large) size of the lens…."
Commentary
When I went looking for the best lens for documentary photography and video after I decided to invest in Panasonic's Lumix Micro Four Thirds camera range, I read about and tried out a number of options including adapted and native prime and zoom lenses.
After narrowing the options down, it was a contest between the Panasonic Lumix G X Vario 12-35mm f/2.8 II Aspheric Power OIS and the Olympus M.Zuiko Digital ED 12-40mm f/2.8 Pro and, after a lengthy tryout of both lenses, the Olympus zoom lens won hands-down.
The single biggest reason?
The M.Zuiko Pro lens collection's manual clutch focus mechanism that is activated by retracting the focus-by-wire control ring towards the camera body.
"Pulling focus with focus-by-wire sucks," as they say in the video industry.
I rapidly obtained critically sharp focus for stills with the M.Zuiko Pro 12-40mm f/2.8 zoom more times than I did with the Panasonic lens' focusing control ring or the camera's autofocus functionality, and that capability outweighed the Lumix 12-35mm lens' rather attractive optical image stabilization.
I still rely on my M.Zuiko Digital ED 12-40mm f/2.8 Pro zoom lens for mission-critical work after having tried out and invested in a number of Lumix prime and zoom lenses, and may well be adding more M.Zuiko Pro primes and zooms in future.
Then news leaked out of Panasonic's Leica DG Vario-Summilux 10-25mm f/1.7 zoom lens being in development, full feature set then unknown as it still is, and things shifted somewhat.
This lens is the closest so far to the ideal zoom lens I had visualized when buying into the Micro Four Thirds system.
I had imagined a lens with a range encompassing every single focal length I rely upon when shooting documentary photographs and video, with the exception of the portrait and big close-up range of 75mm through 85mm and 90mm to 105mm.
Imagine that focal length range in a similarly fast and wide maximum aperture standard-to-telephoto companion zoom lens.
Questions persisted for some time as to whether the Leica DG Vario-Summilux 10-25mm f/1.7 would have optical image stabilization and whether it would come with manual clutch focus.
Many professional photographers and videographers have reportedly been asking Panasonic for the latter in new lenses for quite some time now, to no avail.
It is great to finally see a little more of the Leica DG Vario-Summilux 10-25mm f/1.7 in Joseph Waller's photographs for ePHOTOzine of a pre-production version, but there is no mention nor evidence of a manual clutch focus mechanism in the article and its photographs.
I have asked a contact who is attending The Photography Show 2019 in Birmingham to see if she can get hold of the lens and confirm whether or not it actually has the crucial focusing functionality.
Watch this space!
Meanwhile I am wondering what Olympus has in store with its most recently updated lens roadmap, especially in regard to the "Wide Zoom" and "Standard Zoom" items, not to forget "Bright Prime Lens" and "Telephoto Zoom Lens" which appears twice.
Imagine all those lenses with the brilliant M.Zuiko Pro manual clutch focus mechanism.
Kiss goodbye to the frustrations of pulling focus via fly-by-wire.
Postscript
My Birmingham contact is pretty sure that the Leica DG Vario-Summilux 10-25mm f/1.7's aperture ring is declicked.
Now waiting for her to have hands on with the lens and confirm whether there is a manual clutch focus mechanism.
Post-postscript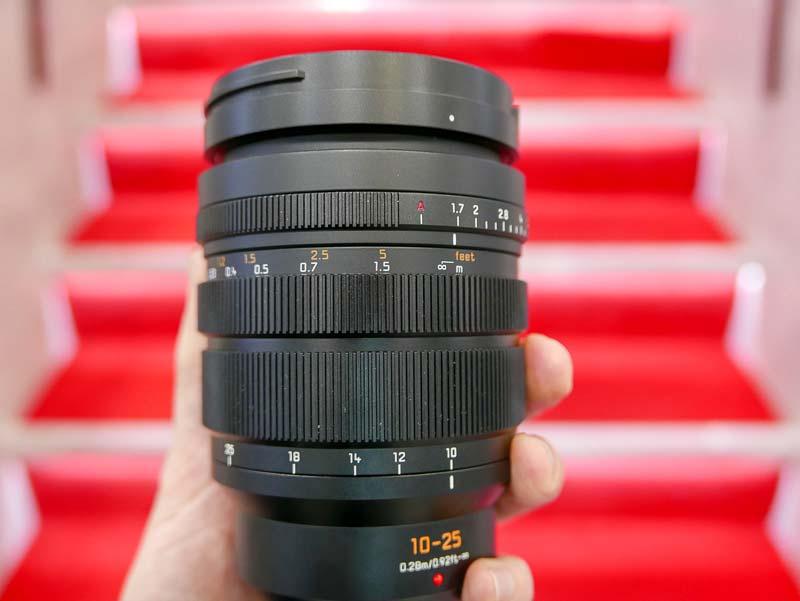 Well I think that is evidence enough that Panasonic's Leica DG Vario-Summilux 10-25mm f/1.7 will have manual clutch focusing mechanism and thus accurate and repeatable focus pulling for video.
It will also have the ability to quickly and accurately set hyperfocal distance, a necessity when zone focusing for high-speed forms of documentary or photographing in the street, as well as landscape photography.
Hyperfocal distance can be calculated using online forms or mobile apps, and a number of options can be found online here.
Fully manual focus lenses such as the Leica M-Series rangefinder camera lenses illustrated up this page provide beautifully-etched scales allowing quick calculation of hyperfocal distance, a functionality I often yearn for when photographing in public with digital cameras and lenses.
Whet now remains is for a late pre-production Leica DG Vario-Summilux 10-25mm f/1.7 Aspheric zoom lens to find its way into the hands of professional cinematographers and photographers for extensive testing and reporting on its mechanical and optical quality.
This lens has the potential to replace a range of prime lenses in one's daily gear kit, in my case the 35mm sensor equivalents of 21mm, 28mm, 35mm, 40mm and 50mm.
Neither Olympus nor Panasonic supply all those focal lengths as prime lenses, though I hope that situation will change in the near future.
The Leica DG Vario-Summilux 10-25mm f/1.7 Aspheric will not be a cheap lens given Panasonic's ambitions in producing it, but whatever its price on release, it would be wise to compare it to what those five focal lengths might cost as f/1.7 prime lenses.
There are other potential benefits.
The Leica DG Vario-Summilux 10-25mm f/1.7 Aspheric's filter diameter is 77mm, and I would recommend attaching a Breakthrough Photography 77mm to 82mm knurled brass step-up ring to it for attaching 82mm diameter fixed and variable neutral density filters when shooting video.
Whether the Leica DG Vario-Summilux 10-25mm f/1.7 Aspheric zoom lens is heavy or not, its size would benefit from attaching a vertical battery grip to your camera if it is a Panasonic.
I like most cameras to be equipped with vertical battery grips for added power when shooting video and ease of handholding in portrait photography.
The countdown to NAB 2019 is well advanced and it will be interesting to see if Panasonic shows off mockups of the coming Lumix DC-GH6 hybrid M43 camera.
I am hoping that Panasonic will combine the best of the Lumix DC-GH5 and GH5S in the GH6 while taking into account the challenges presented by the Blackmagic Pocket Cinema Camera 4K, Fujifilm's X-T3 and X-H1 while bearing in mind the coming X-H2, as well as the 35mm sensor-equipped mirrorless cameras now released by Canon, Nikon, Leica and, indeed, Panasonic itself.
While the Super 35 format has its many attractions, the smaller and lighter cameras and lenses of Super 16 moviemaking still allow you to go places where the larger 35mm cameras and lenses can draw undue attention.
The photographs of the 10-25mm f/1.7 lens published by ePHOTOzine and Photography Blog appear to have been shot on mobile phones and optical exaggerations make it hard to accurately judge the lens' size in relation to the camera or the hands holding them.
Nonetheless, I have no problem with the idea of carrying this one lens about almost permanently attached to any Panasonic M43 camera whether with battery grip or not, or a Blackmagic Pocket Cinema Camera Camera 4K for that matter, though I would be tempted to consider the Zhiyun-Tech Weebill Lab or Crane 3 Lab as appropriate if stabilization is a necessity when shooting with the BMPCC 4K.
Links
Help support 'Untitled'
Clicking on the links below and purchasing through them or our affiliate accounts at B&H Photo Video, SmallRig or Think Tank Photo helps us continue our work for 'Untitled'.